My love for the Tonkinese breed really only started a couple of years ago,when a chance mating between my brown Burmese queen"FLEUR"and my cream point siamese "Caspur" produced the most enchanting litter of 5 first generation Tonkinese kittens. I found these litle bundles of joy to be such a delight in every possible way.
My daughter Rebecca was especially drawn to one particular kitten, a brown tortie female and she named her Poppy (Ferngully Wild Poppy). We decided that we would keep her and so started my more serious attempt at Tonkinese breeding.


Ferngully Wild Poppy pictured here at nine months old.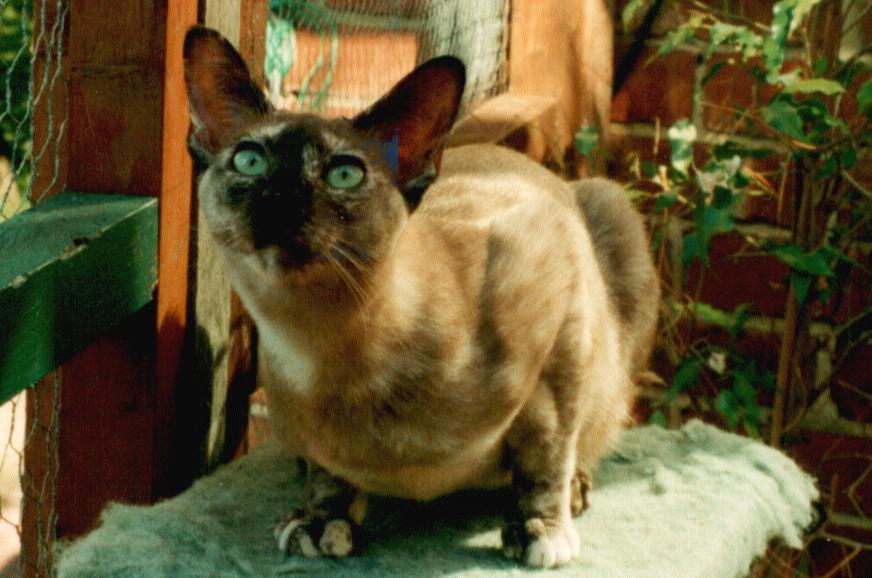 The Tonks have short close lying coats that feel just like silk to the touch. They have deep green - aqua blue eyes, the colour seming to change under different lights, night or day.
Poppy presented us with her first litter of kittens on Jan 21st 2001. Seven little babies. She has made a perfectly devoted mother. Such is my love for this breed that i have high hopes for the future. The Ferngully Tonkinese are very special to me because i have created this new line with my own cats. I hope in a year or so to be breeding 3rd generation Tonks and then will be able to Show them. I have had a lot of encouragement form my friend Chris. Richards. (Tonkaholics)whose wealth of information on this wonderful breed has helped me no end and my thanks go out to her.
If you are interested in knowing more about the Tonkinese Breed then do pay a visit to Chris's website.
Here are some pictures of a very proud Poppy and her babies.