SHANTOGA FERNGULLY FABIAN , SOPPY old lap cat !! Everybody loves him and wants to take him home. Fabian is a cream point siamese and was our first stud boy and show boy. He was kindly sold to us by Anne of Shantoga fame. He didnt like being a stud cat much although he did sire several wonderful litters. Unfortunatly we had him neutered before he became champion (having 2 C.C.`S under his belt), we got a lot of grief for this!!!! But he is happiest being a house cat where he practises the art of loafing, bless him!
Tia (Lavinshy Dragons Kiss) And doesnt her name suit her, she is The Cat With Attitude, but we love her! Tia is a blue oriental female, extremely elegant and very long in body. She is undoubtably our no 1 queen and has produced many wonderful litters of kittens over the past years, several of her offspring have gone on to the show bench .Tia is the boss cat at here at home. She will be retiring from her motherhood duties very soon to become another of our layabouts.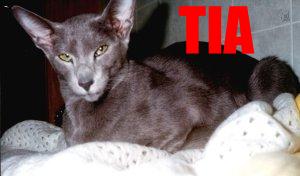 We hope you enjoyed looking at these pictures in this album,we couldn`t show all the cats that we have owned or bred,but their are more pictures on some of the other pages.
We will update this page from time to time.
All of our cats are pets first and breeding or show cats second,we cannot imagine life without our feline family,it is hard work but oh so rewarding.
Nina and Tim short.